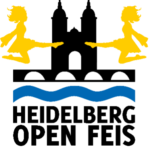 WIDA Heidelberg Open Feis 2021
Saturday, 23rd October
Welcome to the 2021 Heidelberg Open Feis, which will be held as a live event. The current syllabus for WIDA events can be found here. Be sure to read through the WIDA competition rules as well.
To ensure a safe event and prevent the risk of infection with Covid-19, the Feis will respect all local hygiene rules and restrictions. We are legally required to enforce the "3G" rule (participants and visitors must be vaccinated, recovered or tested negative). Please read our hygiene concept carefully and make sure to follow all requirements: Hygienekonzept HD Feis 2021
The timetable is available here: Timetable-HD-2021
Please contact us at [email protected] if you have any questions about the event.
We are looking forward to welcoming you back to our first in-person Feis in almost two years!
Beats Irish Dance Wear
Our Feis will be supported by Beats Irish Dance Wear, however, it's pre-order only this year. Head over to their online shop to pre-order and pick up your items at the Feis!